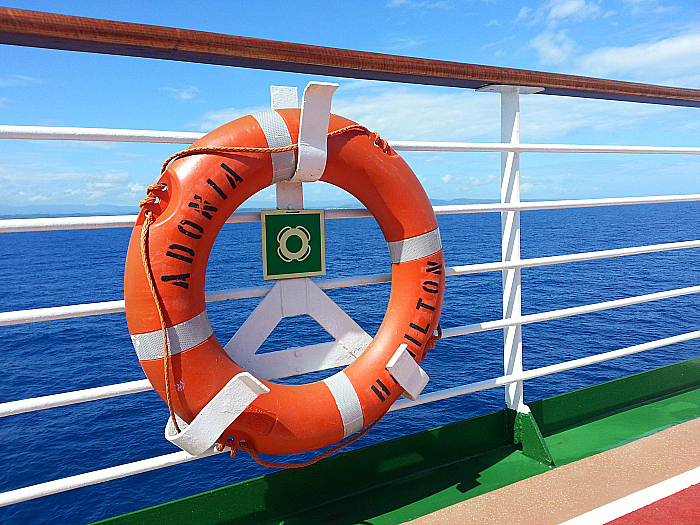 Seasoned cruisers may be familiar with the Adonia. It is a smaller ship that is a part of the Carnival family of cruise lines. It was originally built in 2001 and was renovated this year for Carnival's newest line, Fathom. It now makes trips to the Dominican Republic and Cuba from Miami on alternating weeks.
I was on the second ever trip to the DR. Part of the ship appears to have been updated and other areas seem to be basically the same as they were prior to the renovation.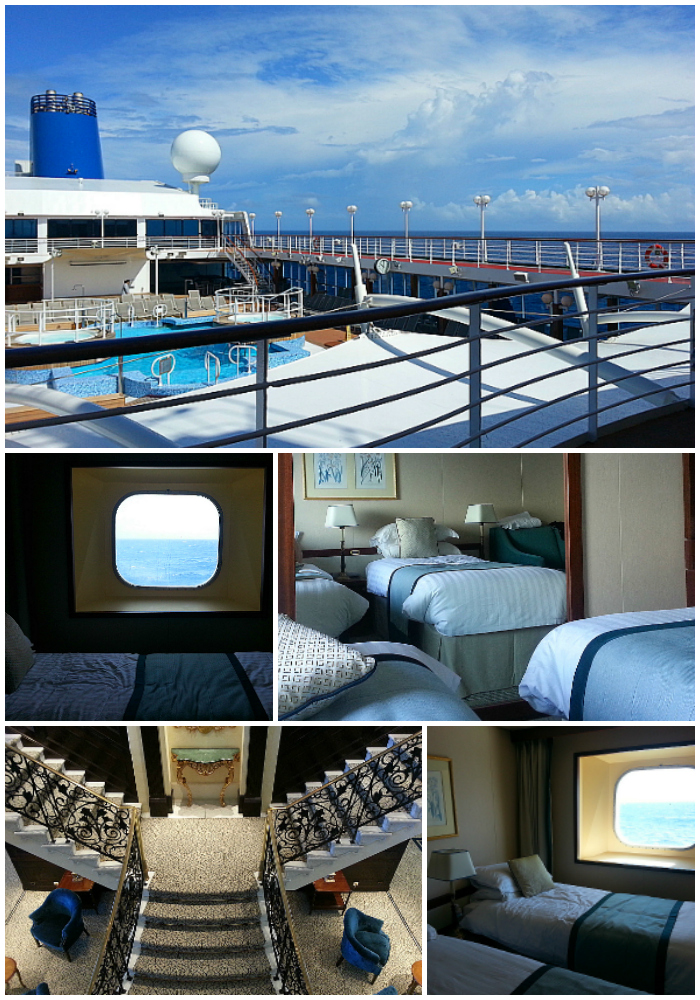 I had a standard ocean view room that comes with 2 twin beds that can be converted to a king. It has 2 night tables, a desk, love seat, closet, and stand up shower in the bathroom. There is a large mirror, which gives the room a more spacious feeling. Amenities include a hot pot for tea and coffee (excellent!), a mini fridge, hair dryer (not great) and Fair Trade hair care products.
There is a gym, spa and salon. Fitness equipment and some classes are included. Others have an extra fee. A day pass can be purchased for those who wish to use the hot tub and exclusive lounge area.
Dining options include open seating at the Pacific Restaurant main dining room (my favorite), The Conservatory buffet, Lido Cafe poolside grill and specialty dining for a fee at Ocean Grill. There is no room service and night owls won't find a meal after hours.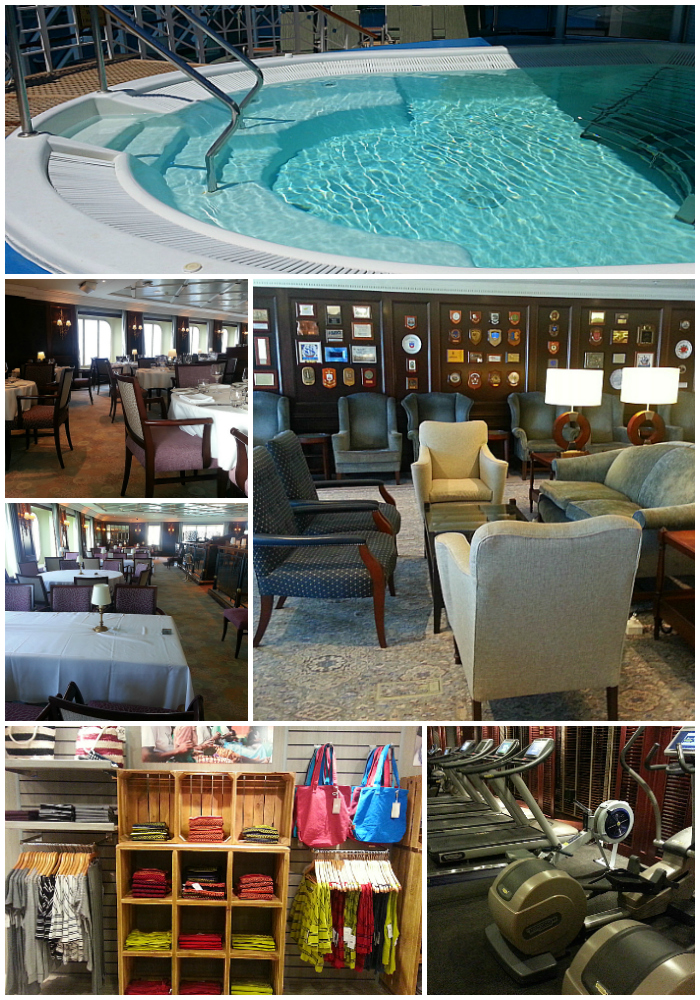 Nightlife was pretty quiet onboard until midway through the cruise when new friends arranged to meet to make their own fun. There is no casino. Bars include The Crow's Nest, Crystal Bar, Anderson's and Glass House, which has absolutely gorgeous views. There is a library with a good selection of books and board games. Drinks need to be purchased individually as drink packages are not offered. The shipboard shops have a good assortment of gifts and things you may need or want during the cruise.
The pool is small and has two hot tubs that never seemed to be too crowded. There are plenty of lounge chairs around the pool and in the shade where you'll also find some hanging basket chairs. There is a jogging track on the deck above the pool and there are ping pong tables and foosball. There are no dedicated areas or programs for kids or teens and passengers must be at least 8 years old.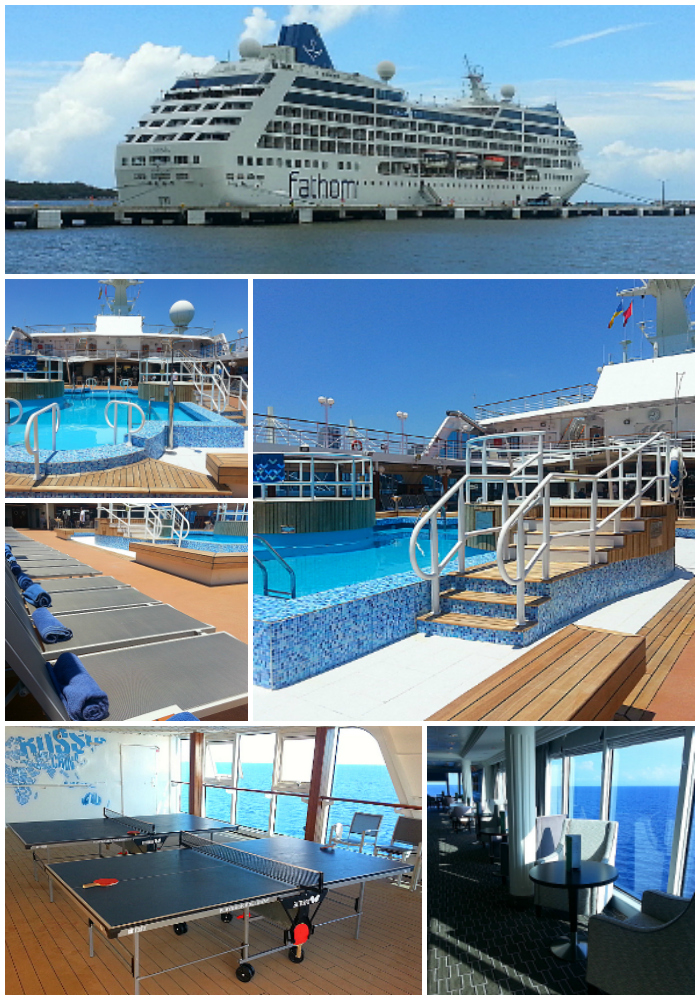 This isn't a luxury liner, but the cruise was perfectly comfortable and a whole lot of fun. Service in the main dining room was top notch and the staff that handled the reception desk and housekeeping were always pleasant and helpful.
I liked being on a smaller ship, especially on a week when it was nowhere near at capacity. It has less of the typical cruise amenities, but the size makes it easier to connect with other passengers or to have some solo time to relax.
Check out my other articles on my Fathom adventure to the Dominican Republic: