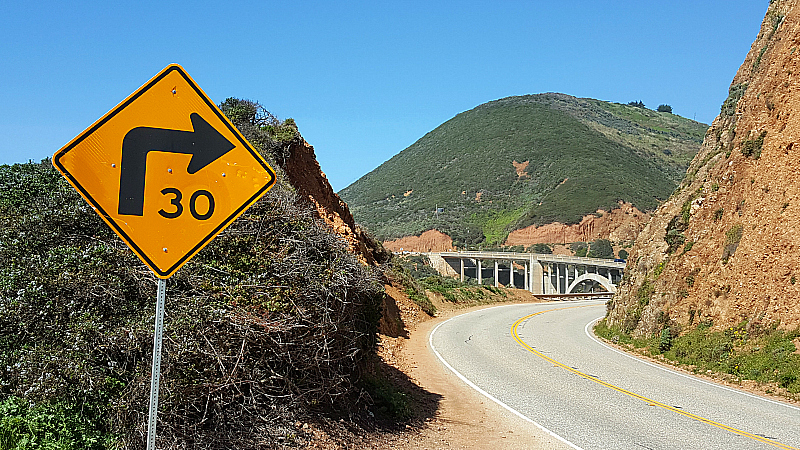 Have you ever been to Monterey? Even if you haven't yet visited, you'd probably recognize photos of the iconic Big Sur Bixby Bridge and the Lone Cypress along the rugged 17 Mile Drive coastline. You're probably also familiar with Steinbeck's books about the area, Dali's Monterey inspired artwork and former Carmel by The Sea mayor Clint Eastwood.
I seem to find myself in this area at least once a year. On each trip, I discover more about this beautiful county and realize that there is still more to explore. Following are five of the areas I visited on my last road trip. You could easily do a slow paced vacation to any one of them or you can squeeze them all into a single trip.
Salinas
Salinas is the county seat of Monterey. This fertile inland valley is home to many family farms and agricultural businesses. Strawberries, grapes and a variety of vegetables are grown to feed Californians and others throughout the country. It was also the childhood home of John Steinbeck, which influenced his writing and his views on social justice and the importance of supporting farm workers.
The downtown area still has a small town feel. I enjoyed window shopping, having lunch at the Steinbeck House and exploring the National Steinbeck Center. I'd recommend visiting the Steinbeck Center at the beginning of your trip as a good way to view the rest of the County with historical perspective.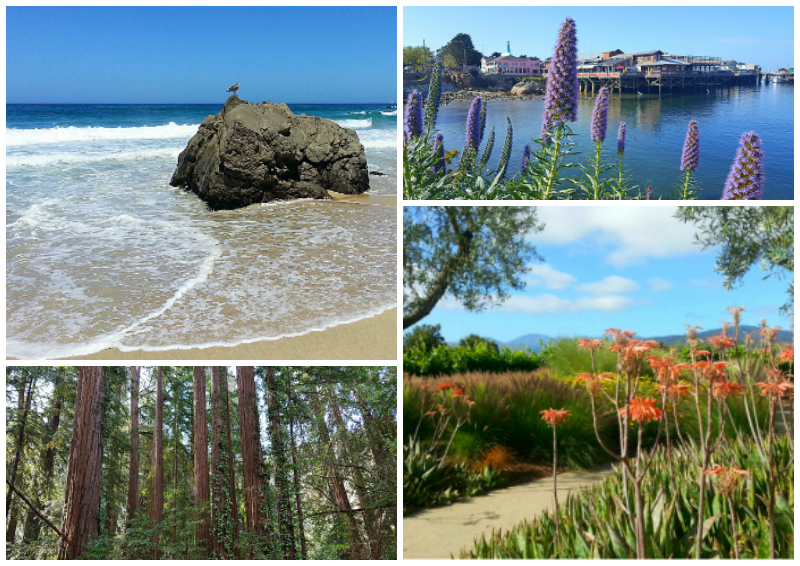 Fisherman's Wharf
For a tourist vibe, Fisherman's Wharf is the place to spend a day. There are plenty of choices for food, drink, shopping, art and other activities including boat tours. I loved spending time at the new Dali 17 art museum, ate dinner at Peter B's Brewery and picked up local salt water taffy as gifts for friends at home.
17 Mile Drive
The scenic 17 Mile Drive in Pebble Beach has views that I'll never tire of. The drive goes through the gated, exclusive Pebble Beach community. You can drive straight through, if you're short on time. If you've got more time, you can stop at every turn out to soak up the views and take lots of pictures. I do this drive just about every time I visit Monterey. My favorite route is to start in Pacific Grove and head south to Carmel. This way the ocean is on the right, so I can easily pull over repeatedly at viewpoints without cutting across traffic.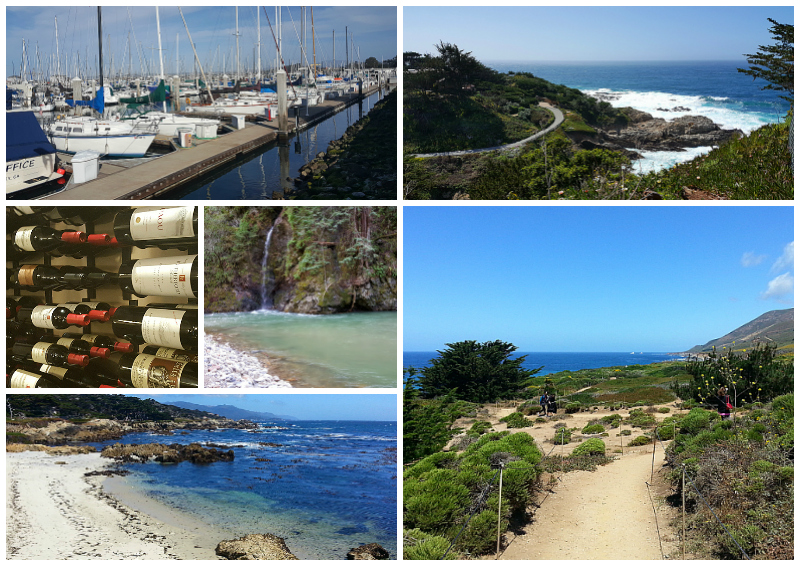 Big Sur
More stunning views await you on the road to and in Big Sur. This naturally beautiful area can be visited as a day trip or you can settle in and stay for awhile. This year I stayed in Big Sur for the first time and loved it. My Glen Oaks Cabin was a wonderful escape and the food and atmosphere at Big Sur Roadhouse were great.
Carmel By The Sea
Carmel By The Sea is a small village that is big on personality. You'll find one of a kind restaurants, shops, galleries and boutique lodging. A few of my favorite restaurants are Anton & Michel's, Basil and Brophy's Tavern. I also like to stop at The Cheese Shop, pick up bread at Lafayette and shop at the weekly farmer's market. The Wine Walk allows visitors to walk to a dozen or more tasting rooms to experience a variety of local wines. I've enjoyed staying at the German-style Hofsas House and the newly renovated Hotel Carmel.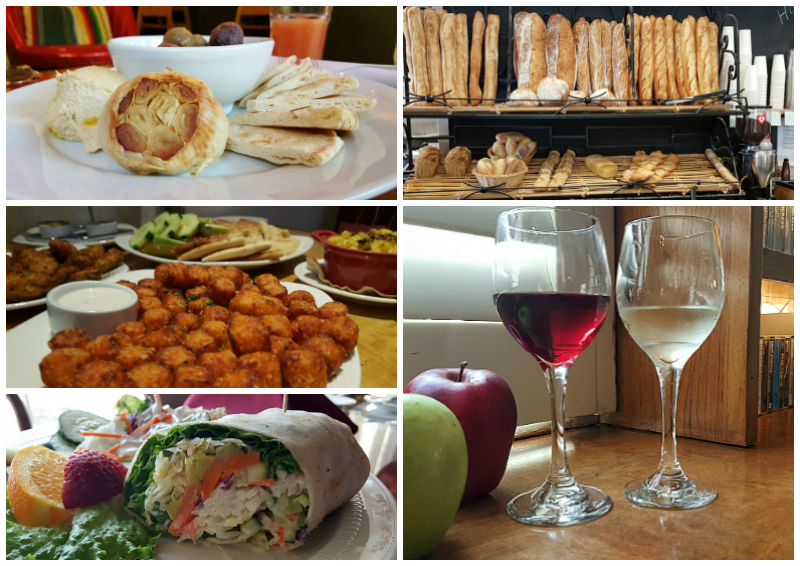 Monterey has a lot to offer for first time visitors and for those of us who like to go back year after year. It's easy to customize your trip to include whatever it is you like to do on vacation.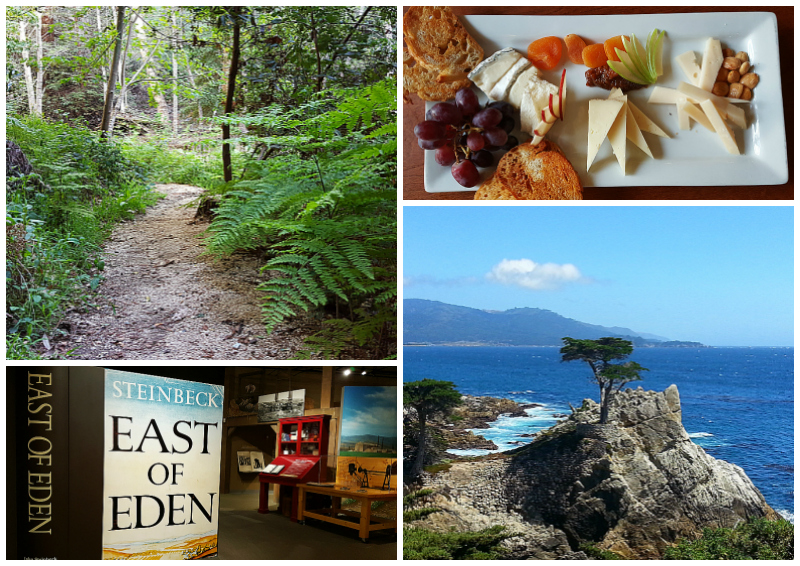 Monterey County
California