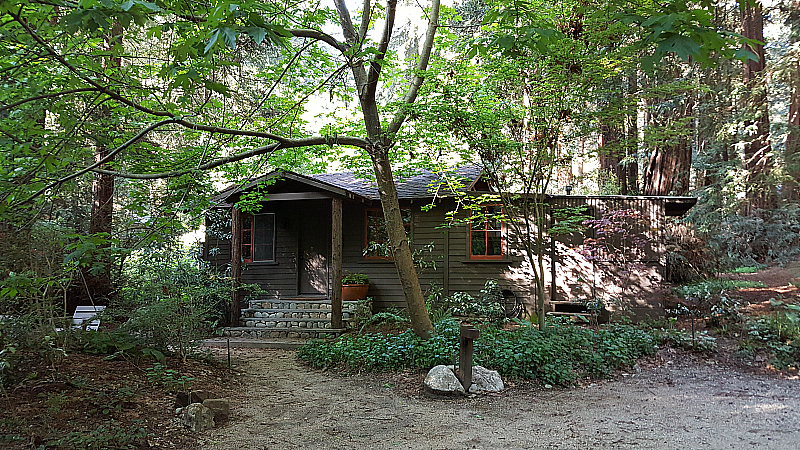 Looking for a California getaway that will allow you to relax and leave your worries behind you? A luxury cabin at Glen Oaks in Big Sur provided exactly that kind of escape for me!
I've enjoyed the scenic Highway 1 drive through Big Sur before, but this was my first time to stay in the area. As soon as I arrived, I knew this was going to be a magical experience.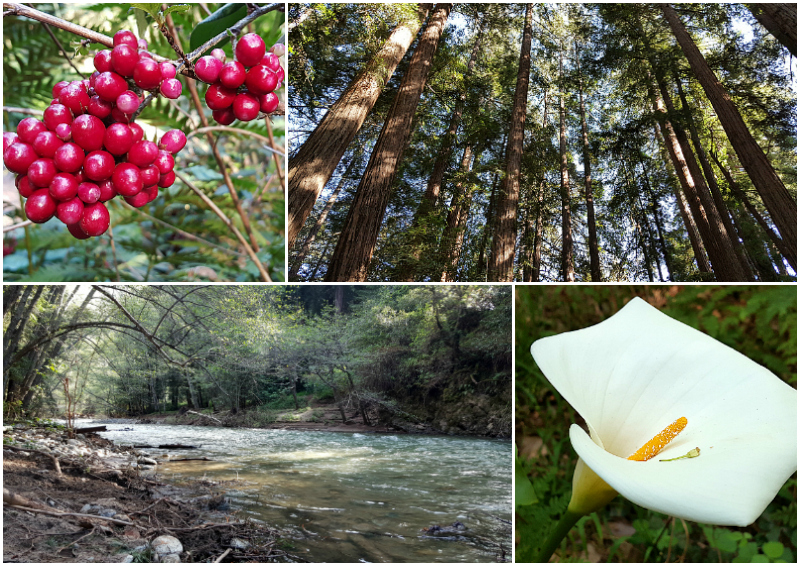 Glen Oaks has a variety of lodging options. The Adobe Motor Lodge is on the east side of Highway 1. I stayed in one of the cabins located behind a security gate across the Highway. They used the same interior designer for all of the rooms, so it has a cohesive feel even though each room is unique. They used natural and eco-friendly materials and lush native landscaping to create an environment that is cozy and welcoming.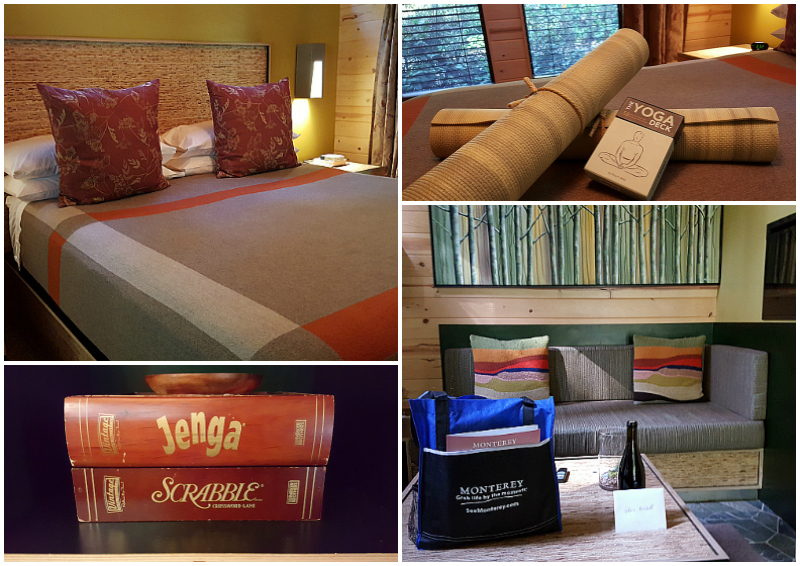 The cabins look rustic from the outside. Some have been their for years and others are newer. When the new cabins were built, they nestled them in among the existing redwoods so it feels as if they were meant to be there.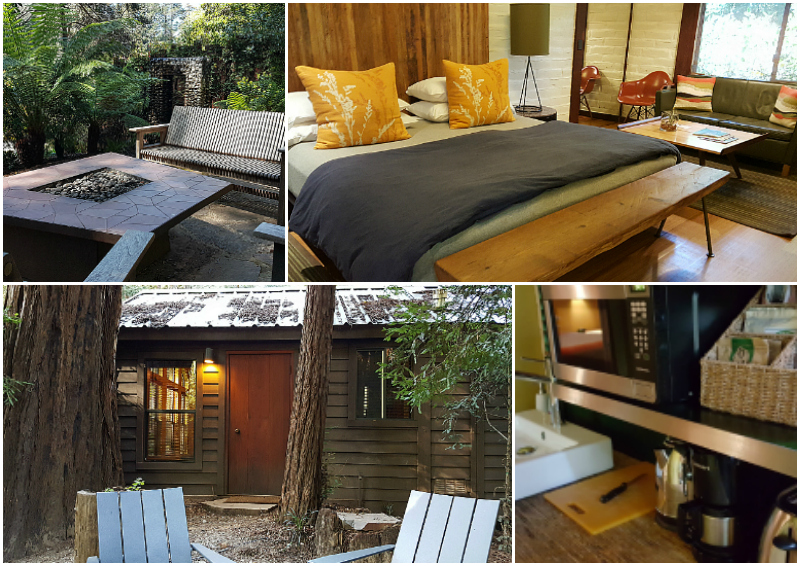 Cabin interiors are luxurious and designed for comfort and functionality. I was in the one bedroom "Sycamore Cabin." The separate living room has comfortable seating and a fireplace. The bedroom is large with a comfortable king sized bed. The spacious bathroom has a walk in shower big enough for two. The kitchenette is stocked with all of the basics and some extras – mini fridge, microwave, toaster, coffee maker, tea kettle, dishes and gadgets. I could easily prep snacks or a meal.
If you're planning on an extended stay or just want to do more cooking, you may want to reserve the Big Sur Cabin that has a full kitchen and breakfast nook. This cabin also has two claw foot bathtubs outside on a private patio.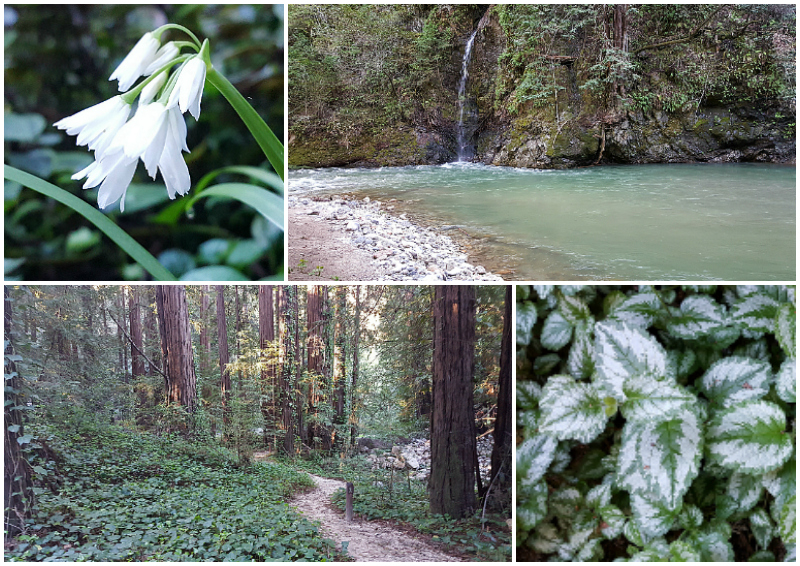 There are no TVs, and I didn't miss that at all. WiFi was free and speedy, but I was too busy enjoying myself to use it much. There were yoga mats, games and an outdoor fire pit. They even included a s'mores kit to enjoy by the fire. They anticipated everything I could have wanted.
There are trails throughout the property. This area was hit with powerful Winter storms this year. The cabins were spared, but it was clear that the river had exceeded it's normal boundaries with all the extra water. There was a gorgeous waterfall cascading into the river due to the recent rains. This Summer when it's warmer and the water isn't flowing so quickly, guests can enjoy a dip in the river.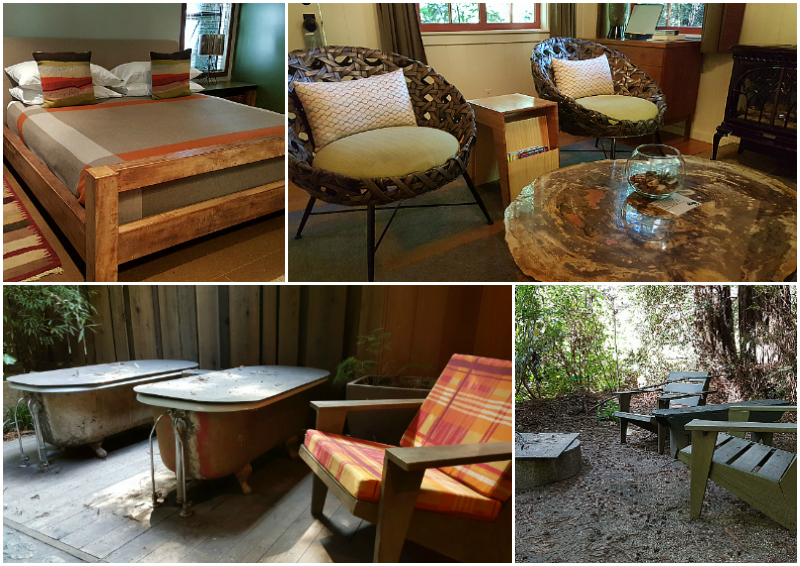 I loved everything about Glen Oaks. Every minute of my stay was just perfect, whether I was hanging out in my cabin, exploring the trails, sitting by the river or just soaking up the scenery. A few days was lovely, but next time I visit I'd like to stay for a week … or maybe a month!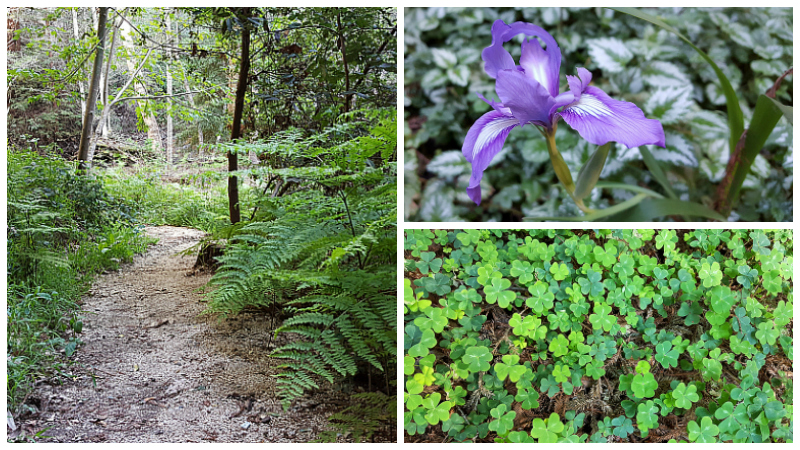 Glen Oaks Big Sur
Los Padres National Forest
Pfeiffer Big Sur State Park
47080 CA-1,
Big Sur, CA 93920