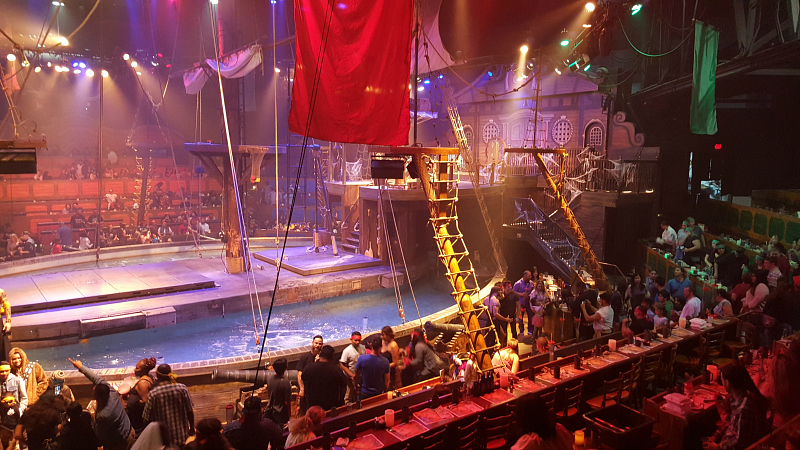 Yes. Vampires and pirates do belong together!
This month, Pirate's Dinner Adventure has a new vampire show for the Halloween holiday season. It has all the fun and entertaining stunts of their regular show, but there are vampires involved.
Vampirate's is showing seven days a week through the end of the month.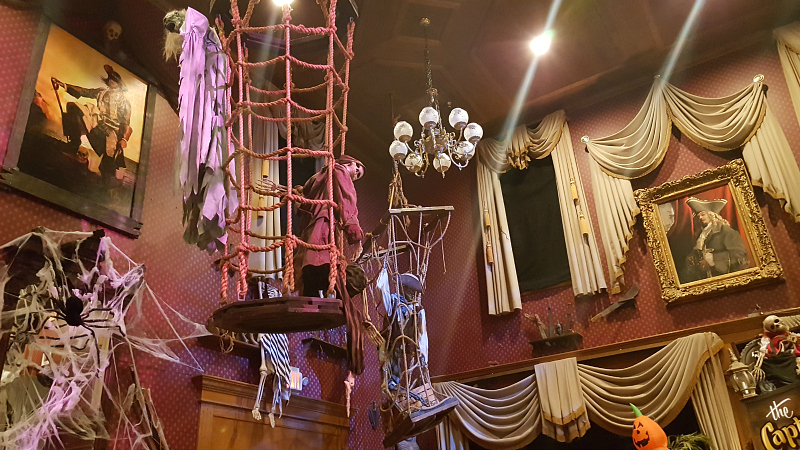 As with their other shows, you'll want to make sure you arrive early for the pre-show and complimentary passed appetizers. We arrived at 6:30 for the 8pm show and that was just perfect.
We had our fill of appetizers and enjoyed hanging out before the pre-show got underway.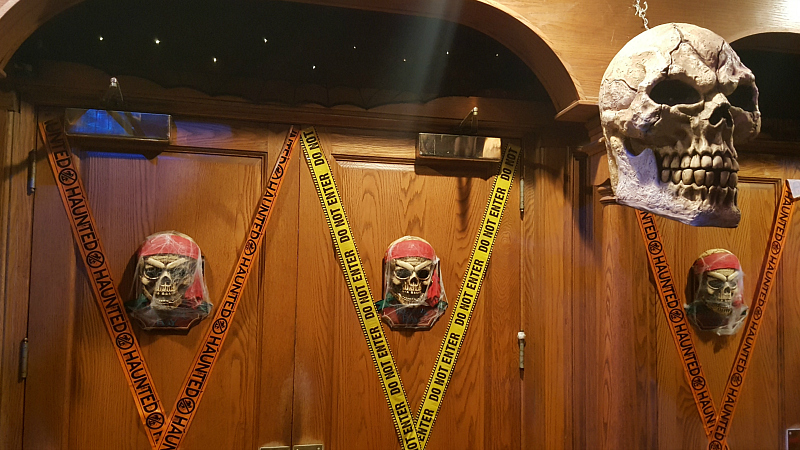 Guests of all ages are invited to wear costumes for the show. On Saturday and Sunday nights they invite adults and kids to participate in a costume contest.
The audience cheered for their favorites and the child and adult who were voted the best received a prize. It was fun for everyone, even those who weren't in costume.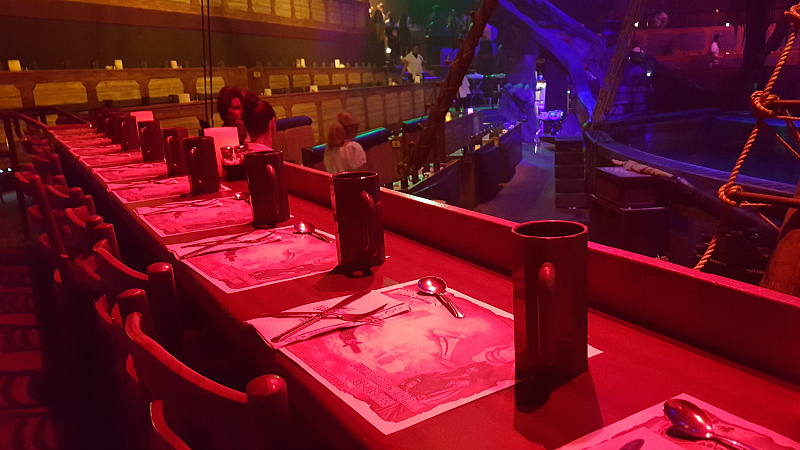 Dinner service begins soon after guests are seated in the main auditorium. We all had our choice of beverage and were offered soup or salad. I had the vegetarian meal, which consisted of butternut squash ravioli and veggies. It was delicious.
My family and friends had the regular entree of chicken, mashed potatoes, veggies and a shrimp kebab. We all had cake and coffee for dessert.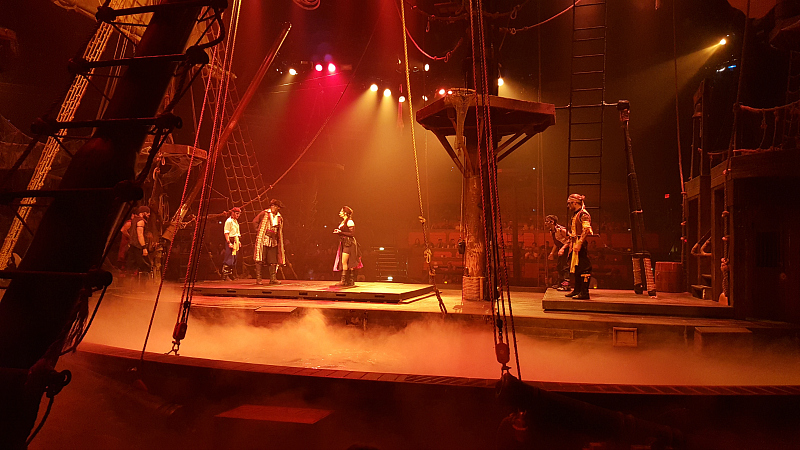 The show is interactive and there is a lot of audience participation. We were sitting in an especially fun section this time, so we did a whole lot of yelling and cheering as appropriate during the show.
There are loud noises and fake 'fight' scenes. If you have a child who is sensitive to these things, you'll want to use your own discretion. There were were small children sitting near me who absolutely loved it.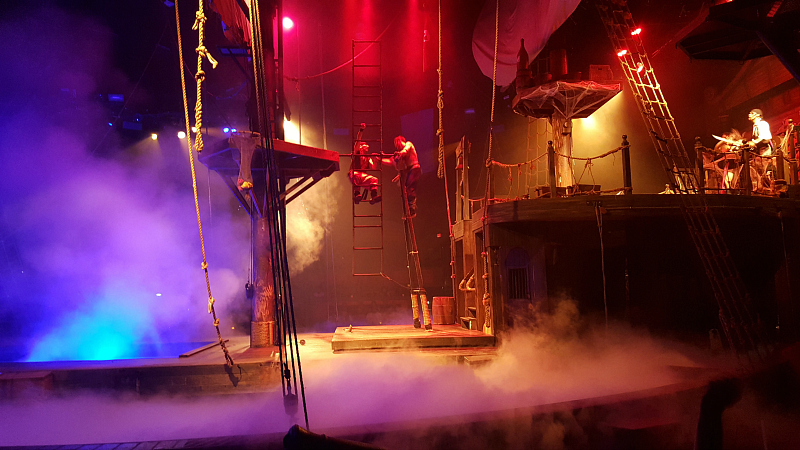 Vampirate's was fun and entertaining. The actors were very talented with their acrobatics and other stunts. The story was exciting and kept everyone involved in finding out what would happen next.
Pirate's Dinner Adventure is great fun for kids and adults. It's fun for special occasions and anytime you want to have an entertaining night out with family or friends.
How would you like to save some money on Vampirate's?
Discount code: MOMMA
to get special pricing of $32.95 for Adults, $26.95 for children plus tax and fees.
Groups of 10 or more will have gratuity added.
Offer valid until October 31st, 2017.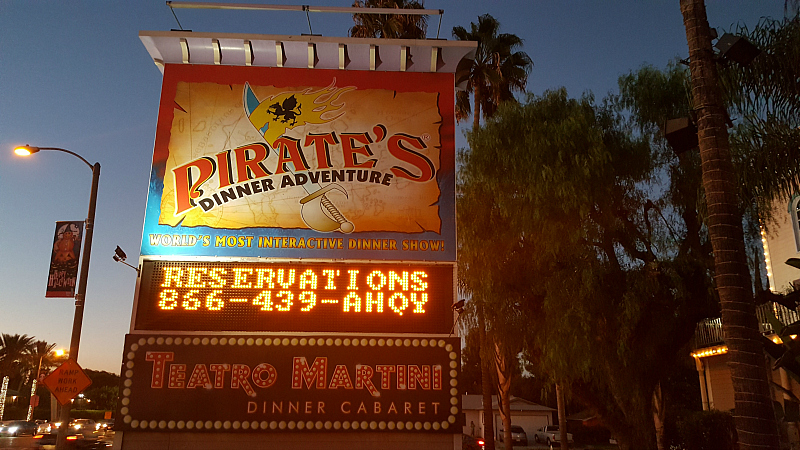 Pirate's Dinner Adventure
7600 Beach Blvd.
Buena Park, CA 90620