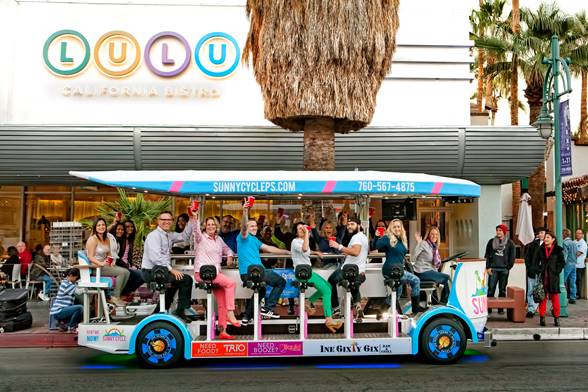 There is a whole new kind of entertainment in Palm Springs!
When I first heard about Sunnycycle, I thought it would be fun. I had no idea just how much fun it would be! I'm generally reserved and a bit on the quiet side, but you never would have guessed that the evening I pedaled through Palm Springs with Sunnycycle.
The Sunnycycle is a unique bicycle with 'electric motor assist' that kicks in anytime the pedaling isn't enough to power the bike. There's no pressure to get in a big workout. Each person can pedal as much or as little as they'd like.
The vehicle can seat 15 passengers (6 on each side can pedal and there is a bench seat for 3 more in the back). There is a driver in front and safety inspector (party host) on board. Seats are adjustable.
Groups can rent out the whole thing or you can purchase individual seats on a tour that includes stops at local eateries. My small group of 5 of us had a great time. With music playing, we made our way from the Uptown Design District to Downtown Palm Springs. It felt as if we were on a float in the Rose Parade as we waved and smiled for those who were taking photos and videos – so much fun!
Sunnycycle is a great way to experience Palm Springs!
Sunnycycle
Palm Springs, California 92264
(760) 567-4875