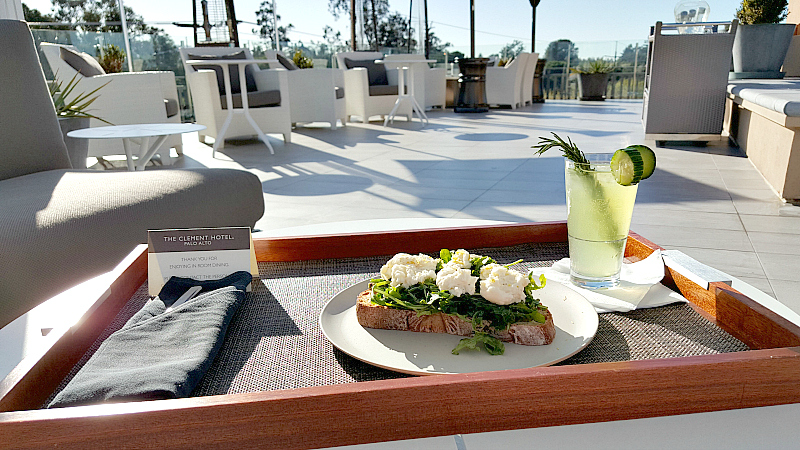 The Clement Palo Alto
Have you ever been to a 6 star resort or hotel? The Clement Palo Alto was my first experience with a 6 star hotel and it was amazing!
The 23 room boutique hotel is all-inclusive, so once I checked in I could just relax and make myself at home. I felt welcomed from the moment I first pulled up for the valet and was able to quickly get settled in.
When they say all-inclusive luxury, they really mean it. Food, beverages (including alcohol), valet, shoe shine service and tips are included and you won't have to sign for anything that is delivered to you.
The food is fantastic and there is plenty available. I filled out a survey with my preferences ahead of time, so my room was stocked with the drinks and snacks that I like. They also have a fully stocked guest pantry that is open 24/7.
Food and beverages can be ordered to eat in the communal dining room or they can be delivered to your room or to the rooftop pool or outdoor patio. Guests can order off of the menus or the chef is happy to take special requests. I ate lunch in a cabana by the pool and ordered room service for my other meals. (For more about the delicious gourmet food I enjoyed at The Clement check out this article on my food blog)
The hotel has anticipated all the basics and also extras that I wouldn't have thought of. For example, they supply sunscreen, sunglasses and water at the rooftop pool and basic office supplies in the in-room desk. I felt pampered and well taken care of.
The Clement is conveniently located for Silicon Valley business travelers, those who are visiting the university or Stanford Medical Center and vacationers. I spent most of my time relaxing at the hotel and also enjoyed the Rodin Sculpture Garden on campus.
Photo Gallery: The Clement Palo Alto