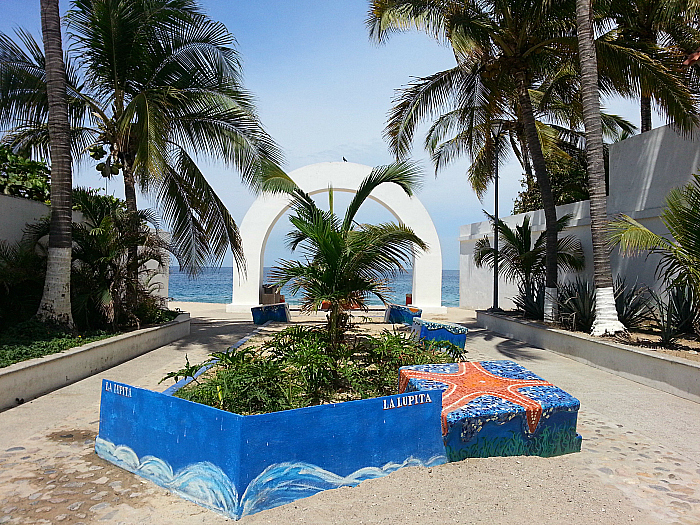 When I was first planning my trip to Puerto Vallarta, I heard that I should make sure I visit the Malecon. I'm glad I did! Malecón is the Spanish word for a public walkway. In downtown Puerto Vallarta, it is right alongside the bay and the views are spectacular.
The paved and landscaped promenade is open for pedestrians only. I walked there from my hotel and felt completely safe. There were other tourists and locals enjoying the day, just as I was.
There are beautiful sculptures along the walkway. This beautiful outdoor setting is a great way to experience art. My favorite was the series of surreal bronze statues called "The Roundabout of The Sea." (bottom photo) The day I was there, another artist was creating sand sculptures on the beach.
On the other side of the Malecon are shops, restaurants and bars. Everyone we met, spoke English but I practiced my Spanish as much as possible. We asked one of the shopkeepers where else he would recommend that we walk. He suggested Isla Cuale.
This is a small island in the river just before it meets the bay. There are shops, restaurants and a cultural center there. We were also told that if we looked closely, we might see iguanas. Sure enough, there were iguanas above us in the trees and a huge, calm iguana eating his lunch on a wall next to the sidewalk.
I had a great time enjoying the natural and manmade beauty of the Malecon and the surrounding area!