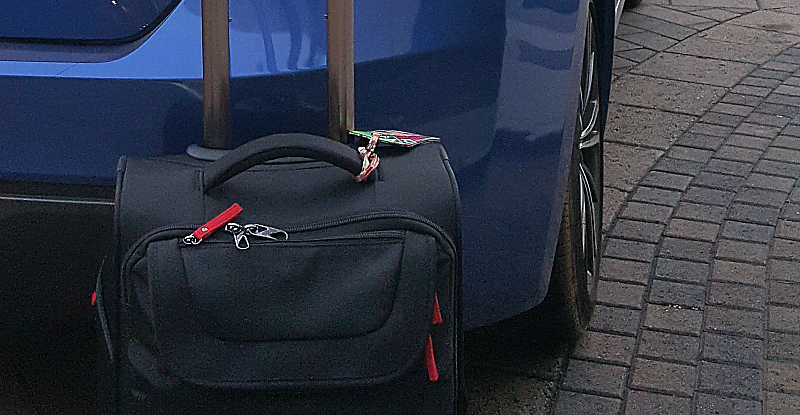 Since John Wayne Airport (SNA) is the closest airport to my home, I can usually get a family member to drop me off and pick me up. Lately, I've ended up flying out of LAX more often and I know where to park at that airport (Lot C). I was excited when I had a flight out of Orange County, but not so excited when the timing didn't work for my family to take me to the airport.
Fortunately, I found an online service that helped me get cheap and convenient parking for my local John Wayne flight. I booked my parking reservation online through Snag A Space. There are a few other sites that offer a similar service at similar prices.
They work with nearby hotels to use their extra parking spaces. They had three different hotels available on the dates I needed. Detailed information about each one was included on their website. I chose The Duke (formerly known as The Fairmont Newport Beach) for a few reasons. I've been there, so knew it was nice. Also, they have covered parking and valet is included. Yes, my car was valet parked in a covered space for about the same price as the other two hotels that had spaces available at a much lower price than parking at the airport. I prepaid online to reserve my space.
All three hotels included a complimentary shuttle to and from the airport. The shuttle from the Duke runs every half hour during normal airport hours and it only takes a few minutes to get to the airport from the hotel.
When I arrived at The Duke, I let them know I was heading to the airport and showed them my receipt. They gave me the phone number to call for pick up after my trip. Staff was friendly.
After I returned to OC, I called the hotel and let them know I was ready to be picked up. The shuttle arrived in just a few minutes to bring me back to the airport. My car was already waiting for me and they offered me a bottle of water before I left.
I asked if Snag A Space was the best way to do this or if I should just call the hotel directly. I was told that I'll get a better price and be assured of a space, if I pre-pay with Snag A Space. It was much lower than the regular daily rate at the hotel.
Parking at The Duke was easy and cheap. It was so convenient that I'll definitely use the service again.